This snowman garland is made from poster board and glitter. It really sparkles in the sunlight if you hang it in a window.
Materials:
white poster board
white glitter
orange glitter
black glitter
yarn or string to hang
Step 1.
Cut out circles from poster board. Paint with a watered down white glue.  Sprinkle on white glitter. Let it dry completely.
Step 2.
To make the face put dots of glue on as shown.  Pour some black glitter on top of glue as shown. Turn it upside down and then tap on the back to loosen the black glitter that may be clinging where you don't want it. Let it dry completely before moving on to next step.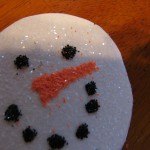 Step 3.
To make the nose paint on the carrot shape with the tip of the glue bottle and then sprinkle on the orange glitter.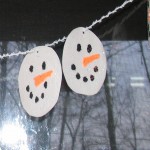 Step 4.
Punch a hole in the top of each snowman and then thread the yarn or string through the holes.