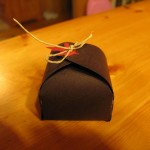 I got the pattern for these little boxes out of a Martha Stewart magazine. I adapted them for Thanksgiving and will make truffles to put inside the boxes. I will put one at each place setting.
Materials:
pattern  (I got mine from a Martha Stewart magazine but I will provide a link for getting some online)

cardstock paper in several colors
glue
twine

Step 1.
Copy the pattern in picture or follow one of the links below. Cut it out from cardstock paper.
Martha Stewart (Type in Templates) I couldn't find the exact one I used but it's probably in there somewhere.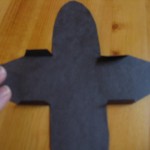 Step 2.
Fold all four tabs as shown.
Step 3.
Fold sides as shown above until all four sides are folded. You should have a nice even square at the bottom.
Step 4.
Trace some small leaves and cut them out. Glue one or two on the end of one of the rounded flaps. (See picture below)
Step 5.
Poke two holes in both of the rounded flaps. Run a piece of ribbon or cord through the two holes in the flap that does not have the leaf on it as shown above.  Take the ends of that cord and run it through the flap that has the leaf on it. as shown above. When you pull the cord the flap that does not have the leaf on it should rest underneath the flap that does have the leaf. When you pull the cord and tie it it should end up looking like the third picture. I am going to make truffles and will put one in each box to set at each place setting. I'm going to try several different recipes and will put the process on as a project if it turns out well.  (I've never made truffles before but it sounds easy!)