I really love college football so I decided to put my tree up for thanksgiving and decorate it with big orange T ornaments for the rest of the season. These are really easy to make and can be easily adapted to your favorite team.
Materials:
Wooden letters (I got mine at Hobby Lobby)
paint
glitter

cord to hang letters
Step 1.
Spray paint your letters.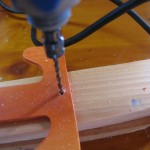 Step 2.
Drill a hole in the top of each letter as shown.
Step 3.
Spread glue in letter and then sprinkle with glitter.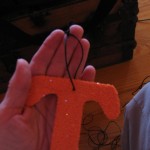 Step 4.
Stick a cord through the hole and tie.