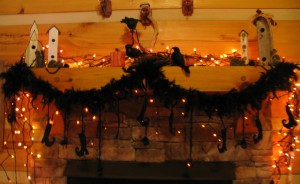 I wanted to use my fireplace mantle as a focal point for my "Old Hag" party this year so I started with some glittery old hag boots and added a black boa for a little glamour.  I made a movie from footage taken at last years party and am hosting a "Golden Crow" award night and movie screening.  I will give awards for different categories based on "performances" at last years party.  I'm using a roll of black landscape cloth for a "red (black) carpet" and will interview guests as they arrive. It will be a night of glamour, "Old Hag" style!
Materials:
black poster board
black glitter
black yarn
string of lights
black boa
Halloween spiders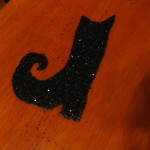 Step 1.
Cut out black boots from black poster board.  Mix some white glue with a small amount of water and paint it on each boot. Sprinkle on glitter and let it dry.
Step 2.
Punch a hole in the top of boots and tie a piece of yarn through the hole. Use different lengths of yarn so they hang in a random pattern.  Cut a piece of yarn long enough to drape across the area you want to use and secure it using nails or tacks. Tie each boot on at evenly spaced intervals.
Step 3.
I added some spiders in between the witch boots.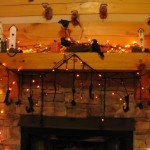 Step 4.
I added a string of LED icicle style lights.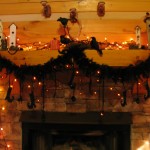 Step 6.
I added a black feather boa to finish it off.
Step 7.
I wanted to tie in the top of the mantle so I draped some yarn in the crows beaks and around the nest. Then I did the same thing using my black cats. I wound up a little ball of the black yarn and put it by the cats to make it look like they are playing with it. Use your imagination and incorporate some of your favorite Halloween decorations.