We have our house on the market so I am trying to keep personal photos down to a minimum but I love looking at them every day. I came up with this idea so that I can display a lot of pictures but can also remove them quickly when necessary. I like to display photos of my kids when they were small and pictures of my grandkids that correlate to whatever holiday or season we are in. I strung up wire a long time ago as a place to dry the grandkids paintings so I decided to use that to string up the photos with these fun Halloween clothespins. This is a very easy project that you could do with your little ones and they can make new ones for each season or holiday. I'm going to make some birthday ones and hang pictures of each member of the family around their special day.
Materials:
several different patterns of scrapbook paper
clothespins
glue
paint brush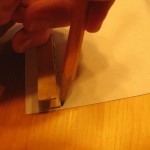 Step 1.
Trace around the clothespins to make a pattern on the back of the scrapbook paper you've chosen.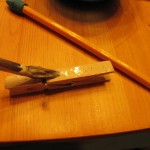 Step 2.
Mix a little water in some glue to thin it out just a little. Paint the front of the clothespins with a coat of glue.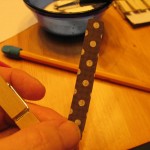 Step 3.
Place the paper on top of the glue.