It's almost that time again!  I'm starting to plan my traditional "Old Hag" party and these wine glass markers will be perfect to keep track of our wine glasses at the party this year. I saw the idea in a catalog and was going to order them but they were sold out. So I decided to make them and put my own spin on it.  This is a very simple and inexpensive project that is really fun to make.
Materials:
Black adhesive backed felt

regular felt in contrast color for legs
sheet of plastic stencil material
tulle or lace for skirt
decorative buttons
optional, frogs cut from felt square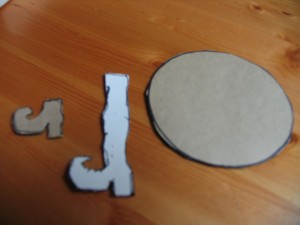 Step 1.
Cut a three inch circle for skirt pattern.  You will also need a leg pattern as shown above. I made the legs about three inches long too.  You can trace the foot pattern off of your leg pattern.
You will need to cut one circle from adhesive backed felt for each wine glass marker. You will cut two leg patterns from the purple felt.  Cut two boot patterns from adhesive black felt.  When you cut out the boots you will need to flip your pattern piece over for the second boot so that they will face opposite directions.
You will also need to cut a strip of tulle that is 1   1/2 inches wide and 1   1/2 feet long.  This will be used to decorate the skirt.
You will also need to cut a circle from the plastic stenciling sheet.
Step 2.
Peel the backing from the boot and attach it to the leg as shown.  Trim away any of the purple that shows around boot.
Step 3.
Peel the backing about half way off the circle and attach it to the plastic circle. Now place the legs on the bottom half of the plastic circle and then peel off the rest of the backing and press it down on top of the legs as shown.
Step 4.
Cut a slit halfway across circle as shown.  Cut a small circle in the center of the big circle as shown.
Step 5.
Gather your strip of tulle using a basting stitch and sewing along the edge.  The basting stitch will gather the tulle into a ruffle. If you don't sew you could just buy lace or you can also gather tulle with just a needle and thread.

Step 6.
Apply hot glue around center hole as shown.  Attach netting to glue.
Step 7.
Attach decorative button with hot glue.  Use a different kind of button for each one and your guests will be able to find their glass by remembering which button they picked.  This will work until they've had too many glasses of wine and by then they won't care if they're drinking out of the right one!
I found a piece of felt that had a stamped pattern of frogs so I cut them out and attached them with hot glue.