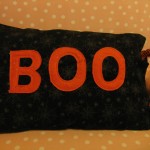 This pillow is really easy to make and will be great for Halloween.  I made the pillow with a green fabric and the pillow case from a black spider web fabric.  The pillow case has fabric (or ribbon) ties to keep it in place.
Materials:
black fabric  (amount depends on what size pillow you want to make)  I needed about 3/4 of a yard for a 13 x 20 inch pillow.
contrasting fabric, same amount
ribbon (for ties) or some additional fabric to make ties.
polyester stuffing
1 square of felt for letters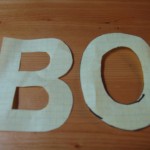 Step 1.
Cut out letters to spell out BOO or whatever you want to put on your pillow.  If you're not good at freehanding you can purchase pre made letters at most craft stores that are designed to string together to make banners.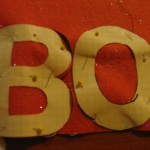 Step 2.
Pin your letters onto felt square and cut out.
Step 3.
Cut out two pieces of black fabric measuring 14 x 21 inches.  Position your letters on one of  the pieces of fabric.  Carefully stitch around each letter.
Step 4.
Put the two black pieces together (right sides together) and stitch leaving one end open.  Narrow hem the open end of pillow case as shown.
Step 5.
Cut two green fabric pieces that measure 14 x 21 inches.  Put the right sides together and stitch all the way around leaving an opening at one end so that you can fill it with stuffing. Turn it to outside and stuff. Hand stitch opening closed.
If you're using ribbon cut four pieces about 12 inches long.  Stitch two on the top and two on the bottom of black pillow case.  If you want to make fabric ties cut four pieces of contrast fabric that measure 12 inches by 3 inches.  Fold them in half and stitch using a 1/2 inch seam allowance. Turn to the outside and stitch close to edge on both sides of tie.