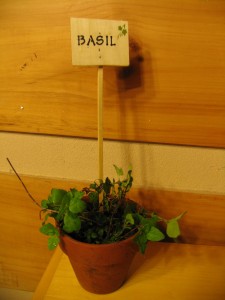 Materials:
wood pieces ( I bought these at Wal Mart. They come in packs of 5 or 6 for about a dollar.)
square dowels  (They come in a pack of 10 at Wal Mart for a couple dollars.)
paint and stencils
staple gun
wood sealer
This project is very quick and easy to make.  I made these markers for my herbs and I liked them so much that I think I will make more for my vegetable garden just for fun.  This would be a fun project to do with your kids.
Step 1.  Mark the wood where you want to make your cuts.
Step 2.
Cut along your lines and smooth edges with sandpaper.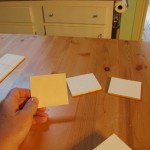 Step 3.
Put what you want on your markers using craft paint and stencils.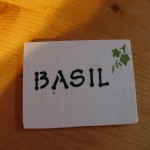 Step 4.
Apply several coats of wood sealer to the marker, especially on the square dowel.   This will protect it from the moisture in the soil.