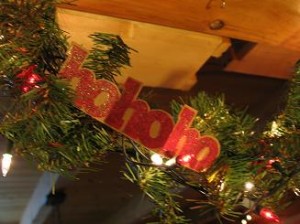 These Ho Ho Ho decorations were made from some adhesive backed words that I found in the scrapbook section at Hobby Lobby. They also had other words like Snow, Joy, etc..  and I used cardstock paper for the background.
Materials:
adhesive backed words purchased in scrapbook section
cardstock paper
garland
lights
santa's or other decor that corresponds to the words you choose.

Step 1.
Peel off the backing from your words and stick them onto the piece of cardstock paper.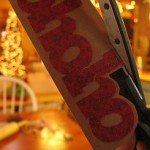 Step 2.
Cut around the words as shown.  I folded mine in several places and then stuck them in my garland.  I added lights and some Santa napkin rings that I bought years ago.