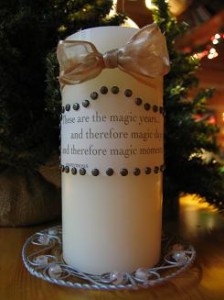 This candle was made with scrapbooking vellum paper that came preprinted with different phrases and metal brads.  It only took me about 15 minutes to make it and I can think of a lot of different takes on this project.  If you take a walk through the scrapbook section of your favorite craft store I'm sure you can come up with a lot of  fun ways to use this basic idea.
Materials:
pillar candle ( I would recommend using a soy candle for this project because the wax is softer and won't be as likely to crack when you use the push pin to make holes. )
a bulletin board push pin or thumb tack
scrapbooking brads
vellum paper phrase ( you can make your own by putting vellum paper in your printer )
metallic ribbon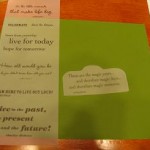 Step 1.
Cut out vellum paper phrase.  You can use any shape you like.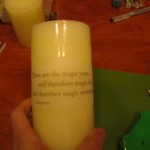 Step 2.
Tape vellum paper to candle.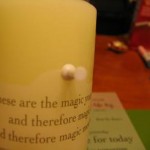 Step 3.
Gently stick your push pin into the edge of the vellum paper and into the candle.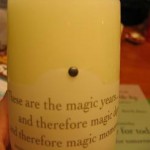 Step 4.
Push the brad into the hole you have made with the push pin.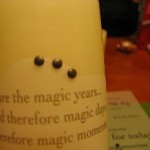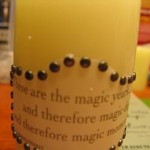 Step 5.
Repeat this step until you've gone all the way around your paper.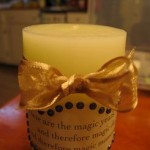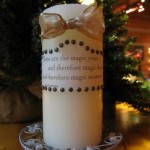 Step 6.
Add a metallic bow.