This table runner is easy and inexpensive to make.  I stenciled enough leaves on it for all family members and guests to sign on Thanksgiving Day fwith a permanent marker.Â
Materials:
Measure your table and then buy enough fabric to hang over on both sides adding about an inch for a hem all the way around.
Paint and stencil of your choice
Step 1.
I made my runner 13″ wide and left 12″ hanging over at each end.  Stencil your design onto the runner doing one color at a time. Let it dry a little between colors so you don't end up with smudges.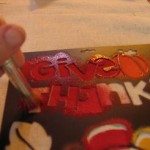 Step 2.
Stencil on your letters and let dry.
Step 3.
I stenciled enough leaves for all my family members and friends to sign a leaf.  If you use a permanent marker you can wash the runner and the signatures will stay put.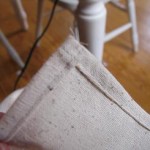 Step 4.
Hem all edges as shown.
You can add trim to the ends of your runner to dress it up and if you want it to look more formal just add leaves and skip the turkey and lettering.