These candle holders are made from clay pots that are painted and stenciled.  I made six of them to use as a centerpiece on my Thanksgiving table but they would be great for any kind of gathering.
Materials:
clay pot
paint
florist bricks or styrofoam
candle
stencil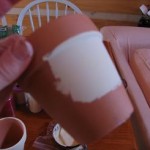 Step 1.
Paint pot and let it dry.
Step 2.
Cut a piece of florist foam and glue it in the bottom of clay pot.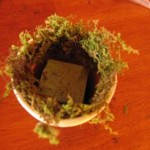 Step 3.
Glue moss around the inside edge of clay pot.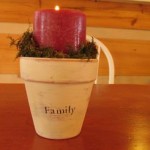 Step 4.
I stenciled words that relate to things I am thankful for because I'm using these as a centerpiece for Thanksgiving dinner. You could use these for weddings, showers, or even birthday parties etc..