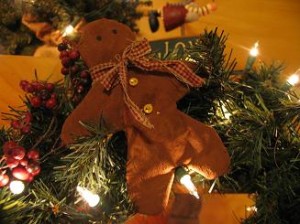 These gingerbread men are fun and easy to make.  I used a lightweight canvas which I painted brown and added embellishments to.  These look great with the candy canes and can be used in many different ways.
Materials:
Small piece of lightweight canvas
brown paint
fiberfill stuffing
tiny buttons
fabric strip or ribbon for bow
Step 1.
Cut out two pieces for each gingerbread man. Put right sides together and then stitch around edge using a 1/4 inch seam allowance leaving the top of the head open.
Step 2.
Clip corners and all around edge and then turn to outside.  Paint brown and let dry.  Fill lightly with fiberfill stuffing.Stitch opening in head closed.

Step 3.
Attach buttons by sticking needle through button and on through the back pulling tightly.  Tie a bow around neck with ribbon or a fabric strip.