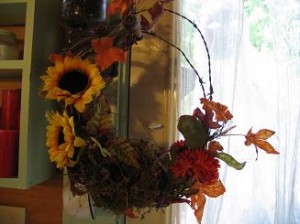 I made this wreath with barbed wire and a bird nest that I found on our property.  It only took about a half hour and is really easy to make.
Materials:
barbed wire
flowers and autumn leaves
bird nest or moss

hot glue gun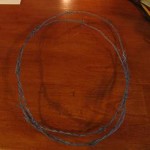 Step 1.
Form an oval shape with the barbed wire making two loops.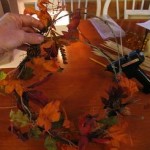 Step 2.
Glue leaf garland onto barbed wire.
Step 3.
Glue bird nest on to the wire.
Step 4.
Glue on a sunflower and then start adding more of the flowers you've chosen until it looks full but not overloaded.  You should move them around and then stand back and look at them before you glue them.
You can also add raffia or ribbon or anything else you can think of.  I like to put seasonal things like candy corn, acorns, candy, etc… in the nests I use in wreaths.