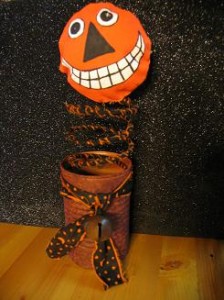 I really love vintage Halloween stuff but it's very expensive to buy so I decided to copy a pumpkin from a vintage postcard. I put it on a spring and stuck it in a rusty can which I showed how to make in a previous project. (See candle can project.)
Materials:
One rusty can
small piece of canvas fabric
wire
black, white, and orange paint
fabric strip to wrap onto wire
small amount of polyester stuffing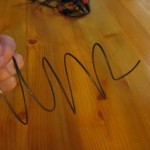 Step 1.
Make a coil with your piece of wire.
Step 2.
Tear a strip of fabric about an inch wide and about a yard long. Wrap the wire coil as shown. I glued the end and used a clothespin to hold it until it dried. Make a loop at the end as shown with pliers.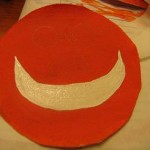 Step 3.
Cut two 5 inch circles from the canvas fabric. Paint them orange. After it dries paint a white smile as shown.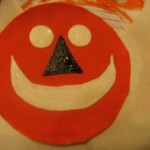 Step 4.
Paint on eyes and nose as shown.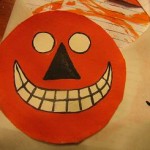 Step 5.
Paint on teeth as shown.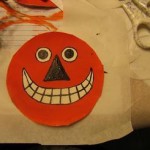 Step 6.
Paint black circles inside the white circles to make eyes.
Step 7.
After paint is completely dry place circles right sides together and stitch, using a 1/4 inch seam allowance. Leave an opening at bottom as shown. Turn to outside and then lightly stuff with polyester filling.
Step 8.
Stick the looped end of the wire inside the opening of the pumpkin head. Stitch it into place. You can use hot glue instead if you prefer.
Use hot glue to secure the coil inside the can and then use a piece of your fabric strip to tie around the can. I added a bell but you can get creative and use something else.