Every year I hold a special party for all the 50+ year olds who live in my little community. We call it the "Old Hag " party and it is always held sometime in October but not necessarily on Halloween. Costume is mandatory and the ladies around here are extremely creative. I keep it fairly simple by asking everyone to bring a Halloween treat to share and provide a prize for most creative treat. I also give a prize for best costume every year but also try to add new prize categories each year to keep it interesting. I always pick a theme and stick to it in all my preparation. For the next few weeks I'll share all my party planning ideas with you and hope you will start a similar thing in your neighborhood. It's a great way for new people to get acquainted and for all of us to get to know each other better.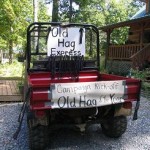 Because this is an election year (for the USA) I decided to use that as my theme for the party this year. I kicked it off by delivering my invitations in my "Mule" decked out in political signs. We will hold a competition for "Old Hag of the Year." I designed a newspaper as an invitation and laid out all the information about the party in it. I included pictures from last years party and some tongue in cheek articles about the activities. I can't print the newsletter due to privacy issues but will share details that don't invade privacy.
Campaign buttons
Materials:
plastic campaign buttons  (I ordered mine from Oriental Trading company, very inexpensive and lots of fun)
card stock paper (scrap booking section of craft store)

Step 1.
Print up what ever you want your theme to be. I used GOP because it fit well with the Old Hag theme and because (don't hate me if we disagree) I'm a Republican. I am not the best person to explain computer projects but I will say I used Microsoft office and did copy and paste to do mine.
Step 2.
Place inside piece of button on top of your printing and trace around it.
Put your circles (cut from paper) inside and snap the two pieces together.
I attached one of these buttons to the rubber band on my newspaper invitations.