All of these towels are made in the same way so I will only give step by step instructions for the first one. I used towels purchased at Wal Mart that come in a pack of two and cost about $3.00. You can use almost any kind of trim for a lot of different looks. This is a very easy project.
Materials:
Dish towel
ribbon trim
fusing paper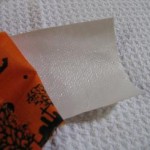 Step 1.
I found this fabric at Wal Mart and it has this repeat pattern which I really liked. Cut out your fabric strip and then cut out a piece of fusing paper the same size.
Step 2.
Place the fusing paper on the wrong side of fabric strip and press it with a hot iron.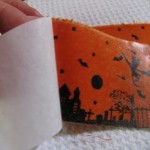 Step 3.
Peel off paper backing.  Now place fabric strip (shiny side down) on your towel and press with a hot iron.  This will adhere your fabric strip to the towel.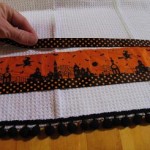 Step 4.
Now lay out your trim pieces the way you want them and cut leaving a little extra at each end to fold under.  Stitch your fabric piece along top and bottom edge and then pin your ribbon along edges of fabric strip and stitch those into place.
Step 5.
Pin narrow ribbon on top and bottom of polka dot ribbon and stitch into place.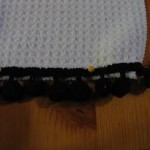 Step 6.
Pin ball fringe (or whatever you choose)Â  to bottom and stitch into place.
Close up views of other towels.