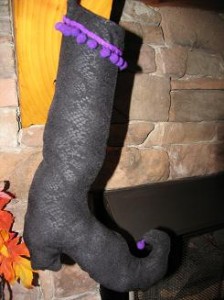 This project is very quick, easy, and inexpensive. I used a faux snake skin fabric that I found at Wal Mart for a dollar a yard. I added some ball fringe trim but you can just hem it or use any fun thing you can find. I used this same pattern and heavy canvas to give this project a whole different look. (See below)
Materials:
one half yard of fabric makes one boot
trim for top (optional)
polyester stuffing
Step 1.
Fold fabric in half so you can cut both pieces at the same time.
Step 2.
Put pieces right side together and pin. Using a half inch seam allowance stitch all the way around leaving an opening at the top.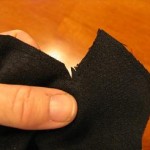 Step 3.
Clip at heel and around curved parts to make it lay flatter when you turn boot.
Turn boot to the outside by sticking your hand inside and holding on the the tip and then pulling it through.
Press with a hot iron.
Step 4.
Hem top of boot and then add trim as shown.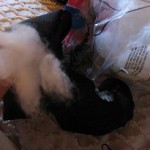 Step 5.
Fill with stuffing.
To make these boots use heavy canvas. After you stuff them paint them black. Then scuff them up with sandpaper to give them an aged look. I added some black gauze at the top and tied bows. If you can't find any black gauze you can easily dye white gauze in a pan of hot water.