This candle can is made from an ordinary can and some scrapbook paper.  It's very quick and easy.
Materials:
one ordinary can
one sheet of scrapbook paper
glue
rust kit (I got mine at Wal Mart but they sell them at Home Depot and Lowes)
Step 1.
Using your rust kit spray can with primer.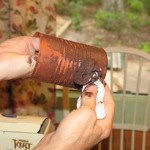 Step 2.
After primer dries dab on the paint as shown.
Step 3. 
Cut out a piece of scrapbook paper to fit can.
Step 4.
Spread glue on back of label and then position it on can.
Step 5.
I wanted to make holes in the eyes so that the candle light will show through so I took a piece of wood and stuck it inside the can to stabilize it. It wasn't quite big enough so I stuck a pencil in there too. Next I hammered the nail through the eyes and mouth of the pumpkins and the eyes of the cat going all the way through the can.