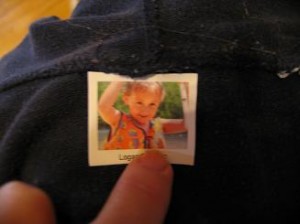 My daughter recently mentioned that the kids are always losing their jackets and sweaters at school so I decided to make some labels for them.  Then I decided to make photo labels because I think if their classmates see their picture inside the jacket they might be more likely to pick it up and give it to them.  And for the younger kids who don't read yet this will be a way for them to identify who the jacket belongs to.  This could also be used for back packs and if you use sticker paper you could even put the labels on book covers etc…  This is a fun project that you can involve your kids in by letting them help you choose which picture they would like for you to use. 
Materials:
fabric paper made for your printer (or sticker paper for book covers.)
fusing fabric ( If you would rather iron them on instead of sewing.) 
Step 1.
Choose the photo you want to use and then rename it to show your childs name.  (When you right click on the photo one of the options will be Rename. )  
Click on the picture and choose the Print option. 
 Step 2.
Your photo program should give you the option to make a "Contact Sheet. "  Click on that and then click on the number of times you want to use the photo.  I needed labels for three grandkids so I asked for ten and that gave me ten of each grandchild on one sheet of paper. 
Now put your fabric paper (or sticker paper if you want labels for bookcovers or school supplies )Â  into the printer.
Step 3.
If you use fabric paper you can either stitch them into the jacket or use fusing paper to iron them in following the manufacturers directions. 
When I make stickers I buy the sticker sheets and cut them apart after I print them.