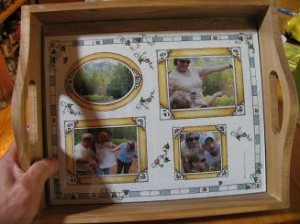 This is an idea I got from my sister in law when I visited her recently.  She had pictures of a previous visit under the glass.  She placed chocolates and flowers on the tray and had it sitting on the bed when I arrived.  I made mine from an inexpensive tray from Wal Mart. 
Materials:
Wooden tray
Paint or stain
Piece of glass cut to fit the inside of the tray
Step 1.
Finish the tray with paint or stain.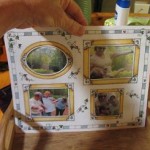 Step 2.
I took a scrapbook page that fit the bottom of the tray and inserted pictures.  I cut a piece of glass to fit but you can use glass from a picture frame or have a piece cut at a glass store.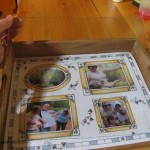 Step 3.
Lay the glass on top of the picture page.  The pictures can be changed for each of your guests and the tray really adds a nice personal touch when it is placed on the bed with flowers and candy.