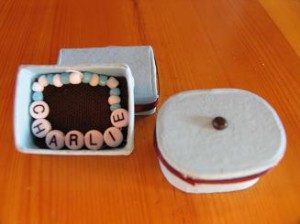 My sister and I, along with my daughter in laws recently gave a baby shower for my daughter who is expecting very soon.  I wanted to make something special for everyone to keep as a memento and found these tiny boxes at Big Lots.  I couldn't find anymore of them but did find some online at www.bayleysboxes.com.  I made little bracelets to go inside with the baby's name on it.  If you don't know if it's a boy or girl you could just put the last name.
Materials:
1   1/4 inch boxes  (These can be purchased from the website above or you can use matchboxes which I've seen on the Oriental Trading company website and catalog.
ribbon
scrapbooking paper fasteners
fabric or scrapbook paper for bottom of box and inside lid
beads and elastic for bracelets  (You can purchase the beads separately at Hobby Lobby to spell out name. )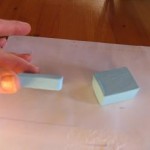 Step 1.
The boxes I got were cardboard so I painted them blue.  On the website address above they come in a variety of colors.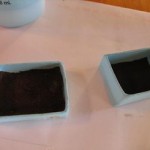 Step 2.
Cut a piece of fabric or scrapbook paper to fit inside the lid and the bottom of box and glue them into place.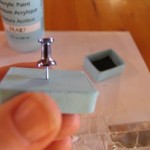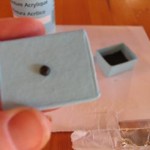 Step 3.
Make a hole in the top with a push pin and then push a mini paper fastener through the hole. Secure
it by folding out the prongs.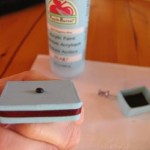 Step 4.
Cut a piece of ribbon and secure it to the edge of lid with glue.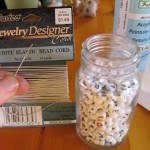 Step 5.
Make baby bracelets  by stringing beads on elastic cord.  You can get individual alphabet beads in packages at Hobby Lobby so you can spell out names without having to dig through a bag of beads.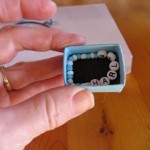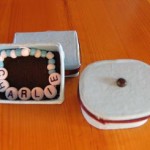 Step 6.
Put the bracelet in the box arranging it so the name shows when you open it.