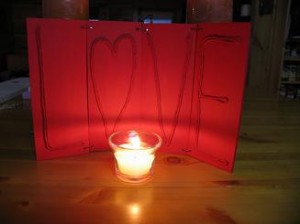 This project is made from four pieces of balsa wood and some string.  It's a simple project that is fun to make and very inexpensive.  This would be a fun project for kids with just a little help.
Materials:
four pieces of balsa wood
string or twine
glue

drill
wire
paint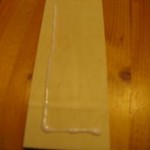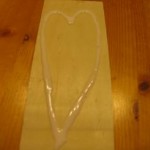 Step 1.
Draw out letters and a heart using glue on your four pieces of balsa wood.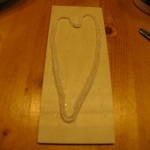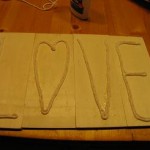 Step 2.
Fill in the glue with string going around each letter twice as shown.  Let dry.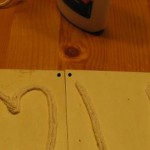 Step 3.
Drill holes at  the top and bottom of each piece as shown.  These holes will be used to wire the four pieces together.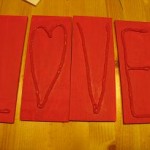 Step 4.
Paint all four pieces red.  It will need two coats to completely saturate the string.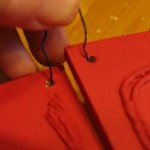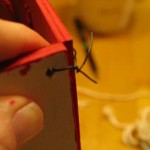 Step 5.
Cut six pieces of wire about three inches long.  Stick the wire through both holes as shown and then twist it together at the back as shown.  Leave enough slack at the front so that each of the wood pieces will bend at the wire connectors and will stand up when you're all finished.  You could also tie it together with string if you'd rather.

This looks good with a candle burning in front of it because the light illuminates the string.  As with any candle you should never leave it burning unattended.