This little garland is so quick and easy to make and you can spell out any message you like with rubber stamps or alphabet stickers. The tags can be purchased at craft or office supply stores or you can make your  own with a tag kit.
Materials:
tags or a kit to make tags (Pre made tags can be purchased at office supply stores and you can get the tags or a kit at most craft stores.)
string or twine
ribbon
letter stickers or an alphabet rubber stamp kit
Step 1.
If you are using a tag kit you will cut out a circle using the template and then press it into the metal tag as shown. I could not find an applicator anywhere so I just laid a board on top of mine and gently tapped down with a hammer.  This worked but I would still like to find an applicator.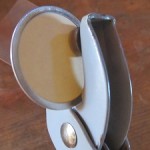 Step 2.
Punch a hole through the top of each tag. I used an eyelet setter but you can use a hole punch or even an ice pick.
Step 3.
Slip a piece of ribbon or string through each hole and secure with a knot.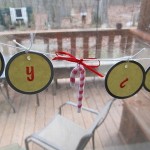 Step 4.
I added red ribbons and candy canes  to mine but you can tie almost anything on it. Go to your local craft store for some inspiration!