I made these tea bags as a way of carrying over the message of the tea party that I attended earlier this year.  One of them is designed to wear as a lapel pin and the other to hang on the rear view mirror as a deodorizer. These are quick and easy to make and are a great way to convey your feelings about what's going on in the USA.
Materials:
muslin fabric
crochet cord
elastic cord
printer fabric
polyester stuffing
tiny attacher stapler  ( I ordered mine from eclecticpaperie.com.  They shipped it out quickly and were wonderful to do business with.  These staplers cost about $15.99. )
Car deodorizer tea bag for rear view mirror.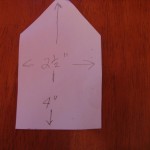 Step 1.
Cut out two pieces for each tea bag.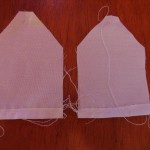 Step 2.
Narrow hem the bottom of both pieces.
Step 3.
Cut a piece of velcro slightly smaller than the bottom of the tea bag.  Cut it in half lengthwise as shown.  Attach the sticky part to one piece and the soft piece to the other side.
Step 4.
Cut a piece of elastic cord about 8 inches long.  Tie a knot in the end of it and then line it up on the front of tea bag as shown.  Now put the two pieces together (right sides together) and stitch along the sides and top using  a 1/4 seam allowance.  Be careful to keep the elastic cord in the center so you don't accidentally stitch it and leave the bottom open so you can put deodorizer crystals inside when you're done.
Step 5.
Turn to outside and topstitch closely along edge on the sides and top only.
Step 6.
Using the tiny attacher staple the top as shown. The knot in the end of the elastic should be just below the staple.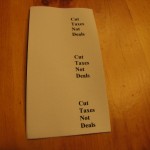 Step 7.
Print up your slogans on the computer and then print them out on fabric paper.  Keep your font size small so that your square will be about the same size as a normal tea bag tag.

Step 8.
Tie a knot in the other end of the elastic cord and position it as shown on the front of the tea bag.  Take your tag and staple it on as shown. Make sure the knot is just below the staple.  Now you can fill your bag with scented beads or crystals.
Lapel Pin:
Make the same as the tea bag above but use crochet cotton cord instead of elastic and cut it about 5 inches long.  When you reach step 5 put a little bit of polyester stuffing inside the bag and then topstitch all around the entire tea bag.  Hand sew a pin onto the back as shown.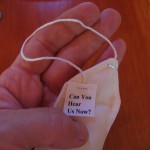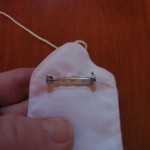 Don't feel like making it on your own? That's okay you can buy them pre-made.
[eshop_show_product id='1780′ class='hilite' panels='yes' form='yes']