This is a quick and easy way to dress up a pillar candle for Halloween.  You just need a small piece of ribbon, lace, and a button. I used stretch lace but any kind will work.
Materials:
1 half yard piece of lace
1 half yard piece of ribbon
one button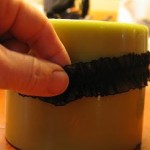 Step 1.
Wrap piece of lace around candle to determine length.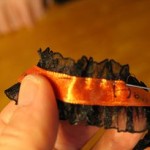 Step 2.
Cut a piece of ribbon to fit the lace and then hand stitch it on to the lace as shown.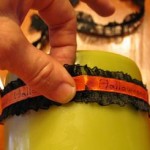 Step 3.
Wrap lace and ribbon piece around candle to determine where to sew the button.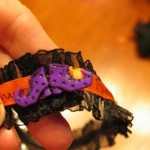 Step 4.
Stitch or pin button into place and you're finished.