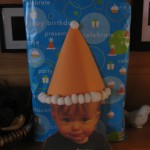 Here is a fun way to wrap a present for someone special. You could use the same idea in many different ways for weddings, graduations etc…. This is a quick and easy project that anyone can do.
Materials:
1 sheet of construction or scrapbook paper
pom poms or other trim
8×10 enlarged photo

Step 1.
Cut out hat shape from paper. Fold edges as shown.
Step 2.
Glue folded edges to gift.
Step 3.
Glue on pom poms.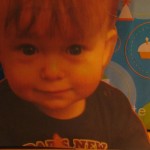 Step 4.
I used HP photo smart to crop this photo. Then I printed it in an 8×10 size and printed it on regular   paper and cut it out.
Step 5.
Attach photo to under edge of hat as shown.