Here is the reason I haven't posted anything since Christmas. His name is Sawyer and he is so much fun! I made this cuddly harness for him so that I can grab him in a hurry when he's getting into stuff without hurting him.
Materials:
double sided shearling fabric (Amount will vary depending on the size of your pet. ) I only needed about 1/4 of a yard.
half ring
large hooks
Step 1.
Dog patterns come in sizes xxs through x large. This pattern fits a small dog. You can make your pattern by measuring around your dogs chest cavity and neck. You have to add enough for seams and for hemming. I added a half inch for hemming and a half inch for the neck seam.
Step 2.
Cut out pieces as shown.
Step 3.
Turn the edge of the shearling fabric as shown and stitch.You will need to clip the corners so that the fabric will turn and lay flat.

Step 4.
Hem edges of tab as shown. Slip the half ring onto the tab and then stitch around the edges. Anchor the ring in place by stitching along both sides of the ring as shown.
Step 5.
Put right sides of neck together and stitch. Spread seam as shown and then top stitch to secure.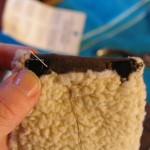 Step 6.
Hem edges of bottom and hand stitch hooks as shown.  Stitch the other side of hooks on the opposite side. This part will fasten under your puppies chest.
Sawyer and his sister Amie.