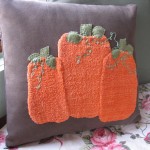 This pillow is really easy to make and is a good way to decorate your house for Thanksgiving.  I used some utility towels that I dyed orange.
Materials:
1/2 yard of  fabric for pumpkins You can use almost anything but terry cloth, velour, or fleece makes a nice textured look.

1/2 yard of fabric for pillow front and back. I used a brown velour fabric.
green embroidery thread
pillow form
zipper that is long enough to fit your pillow. The one in the picture was a 16 inch square pillow so I bought a zipper that was 16 inches long.
Step 1.
Cut out pumpkins using the patterns above. I used 3 pumpkins for each pillow.I also cut out the pillow front and backs using some brown velour type fabric. I used pillows that were 15 x 15 so I made them 15  1/2 x 15  1/2 to allow extra for the seams. Cut 1 large stem and two small stems from green felt. Cut four small leaves and 2 large leaves from green felt.

Step 2.
Pin on pumpkins as shown.
Step 3.
Turn under 1/4 inch all the way around pumpkins and stitch into place. I did mine by hand but you can do it on the machine to save time.
Step 4.
Cut out leaves and stems and pin them on the pumpkins as shown.  Hand stitch into place.
Step 5.
To make the vines you will use embroidery floss. I used all six thread strands instead of separating them so they will show up better. I poked the end down under the leaf then stitched it into place. Then I made loops and tacked them down in several places.
Step 6.
Tape your zipper to the fabric as shown. You will tape it to the right side of fabric with the zipper pull facing the inside (right side) of fabric. Stitch along the edge of the tape using a 1/2 inch seam allowance.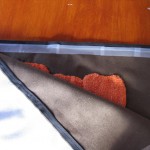 Step 7.
Now tape other side of zipper as shown. Stitch into place using a 1/2 inch seam allowance.
Step 8.
With right sides together stitch around the 3 sides using a 1/2 inch seam allowance.
Step 9.
Turn to outside and stuff in the pillow and zip closed.