Materials:
fabric  ( I used 5 yards  of 60″ fabric for my set of curtains for a window that is  about 6 feet           across.

snap together curtain rings  ( I needed 3 packages of 8 ring sets which I purchased at Wal Mart for about 7 dollars per package.
These curtains are very easy to make and the rings are made to snap together over holes you cut in the fabric and then slipped over the curtain rod to hang. These were fun and easy to make.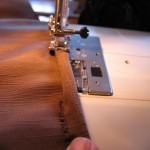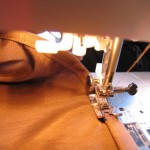 Step 1.
Measure your window and make sure you have enough fabric to cover the entire length that you want and then add about 5 inches for hemming and extra if you want a wider hem.   For my 6 foot window I used 2  1/2 yards of 60″ fabric for each curtain.  (A general rule is 2  1/2 times the width of the window  for fullness.)  The 60″ wide fabric allowed me  less  than that but I didn't want a lot of fullness as mine are more to frame the window than to cover it completely.
Narrow hem all fabric edges of both curtain panels as shown.  If you want a wider hem on the bottom do that now.  I just narrow hemmed mine because I wanted to hang them a little higher than I had planned and was cutting it close on length.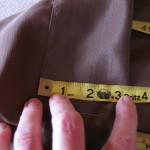 Step 2.
Fold over 3 inches at the top putting wrong sides together.
Step 3.
At the top of curtain (the folded over edge) measure 3 inches from side edge and mark with a pin.  Then mark 5 inches from first pin and place a pin there.  Continue measuring 5 inches the rest of the way across top marking each spot with a pin.  You should have 3 inches left at the end.
Step 4.
Place template that came with rings over the top of each pin and trace circle as shown.   Cut out each circle along lines.
Step 5.
Place the ring that has a raised edge on the bottom.  Then place the other side of ring on top of that and press down until it snaps into place.