I had a cookie cutter cannister that was old and rusted so I decided to paint it and create a Halloween toy for my 5 year old grandson. I made different face shapes so that he can create many different ones. He played with this for a long time and asked for it several times while he was here so I'd have to say it was a hit.  This would be a great toy for throwing in your purse for doctor appointments and long car trips. Remember to keep any toy with small pieces away from young children to reduce choking risk.

Materials:
One metal cannister. You can find these in office supply stores and any place you can buy cookie cutters etc…

Orange spray paint
One magnetic sheet. These can be purchased at craft stores.
Step 1.
Scuff up the surface with sandpaper to help the paint adhere.  Spray paint with the orange paint. Let it dry well and then add a second coat.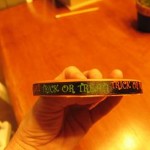 Step 2.
Hot glue ribbon around the edge of the lid.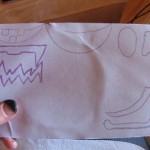 Step 3.
Draw different shapes for faces on the paper side of the magnetic sheet.  The paper is waxy so you'll have to use a permanent marker.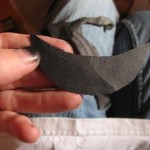 Step 4.
Cut out shapes.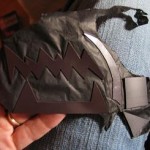 Step 5.
Peel off paper backing and put black tissue paper over the sticky backing.  Trim around each piece. Store the pieces inside the cannister until your child is ready to play with them.